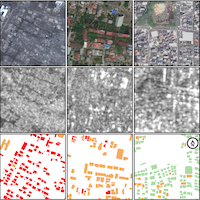 B. Adriano,

N. Yokoya

, J. Xia, H. Miura, W. Liu, M. Matsuoka, and S. Koshimura, "Learning from multimodal and multitemporal earth observation data for building damage mapping," ISPRS Journal of Photogrammetry and Remote Sensing, vol. 175, pp. 132-143, 2021.
PDF Quick Abstract

Abstract: Earth observation technologies, such as optical imaging and synthetic aperture radar (SAR), provide excellent means to monitor ever-growing urban environments continuously. Notably, in the case of large-scale disasters (e.g., tsunamis and earthquakes), in which a response is highly time-critical, images from both data modalities can complement each other to accurately convey the full damage condition in the disaster's aftermath. However, due to several factors, such as weather and satellite coverage, it is often uncertain which data modality will be the first available for rapid disaster response efforts. Hence, novel methodologies that can utilize all accessible EO datasets are essential for disaster management. In this study, we have developed a global multisensor and multitemporal dataset for building damage mapping. We included building damage characteristics from three disaster types, namely, earthquakes, tsunamis, and typhoons, and considered three building damage categories. The global dataset contains high-resolution optical imagery and high-to-moderate-resolution multiband SAR data acquired before and after each disaster. Using this comprehensive dataset, we analyzed five data modality scenarios for damage mapping: single-mode (optical and SAR datasets), cross-modal (pre-disaster optical and post-disaster SAR datasets), and mode fusion scenarios. We defined a damage mapping framework for the semantic segmentation of damaged buildings based on a deep convolutional neural network algorithm. We compare our approach to another state-of-the-art baseline model for damage mapping. The results indicated that our dataset, together with a deep learning network, enabled acceptable predictions for all the data modality scenarios.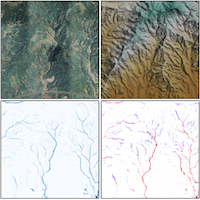 N. Yokoya

, K. Yamanoi, W. He, G. Baier, B. Adriano, H. Miura, and S. Oishi, "Breaking limits of remote sensing by deep learning from simulated data for flood and debris flow mapping," IEEE Transactions on Geoscience and Remote Sensing, (early access), 2020.
PDF Code Quick Abstract

Abstract: We propose a framework that estimates inundation depth (maximum water level) and debris-flow-induced topographic deformation from remote sensing imagery by integrating deep learning and numerical simulation. A water and debris flow simulator generates training data for various artificial disaster scenarios. We show that regression models based on Attention U-Net and LinkNet architectures trained on such synthetic data can predict the maximum water level and topographic deformation from a remote sensing-derived change detection map and a digital elevation model. The proposed framework has an inpainting capability, thus mitigating the false negatives that are inevitable in remote sensing image analysis. Our framework breaks limits of remote sensing and enables rapid estimation of inundation depth and topographic deformation, essential information for emergency response, including rescue and relief activities. We conduct experiments with both synthetic and real data for two disaster events that caused simultaneous flooding and debris flows and demonstrate the effectiveness of our approach quantitatively and qualitatively. Our code and datasets are available at https://github.com/nyokoya/dlsim.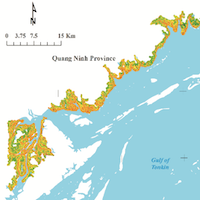 T. D. Pham,

N. Yokoya

, T. T. T. Nguyen, N. N. Le, N. T. Ha, J. Xia, W. Takeuchi, T. D. Pham, "Improvement of mangrove soil carbon stocks estimation in North Vietnam using Sentinel-2 data and machine learning approach," GIScience & Remote Sensing, vol. 58, no. 1, pp. 68-87, 2021.
PDF Quick Abstract

Abstract: Quantifying total carbon (TC) stocks in soil across various mangrove ecosystems is key to understanding the global carbon cycle to reduce greenhouse gas emissions. Estimating mangrove TC at a large scale remains challenging due to the difficulty and high cost of soil carbon measurements when the number of samples is high. In the present study, we investigated the capability of Sentinel-2 multispectral data together with a state-of-the-art machine learning (ML) technique, which is a combination of CatBoost regression (CBR) and a genetic algorithm (GA) for feature selection and optimization (the CBR-GA model) to estimate the mangrove soil C stocks across the mangrove ecosystems in North Vietnam. We used the field survey data collected from 177 soil cores. We compared the performance of the proposed model with those of the four ML algorithms, i.e., the extreme gradient boosting regression (XGBR), the light gradient boosting machine regression (LGBMR), the support vector regression (SVR), and the random forest regression (RFR) models. Our proposed model estimated the TC level in the soil as 35.06–166.83 Mg ha−1 (average = 92.27 Mg ha−1) with satisfactory accuracy (R 2 = 0.665, RMSE = 18.41 Mg ha−1) and yielded the best prediction performance among all the ML techniques. We conclude that the Sentinel-2 data combined with the CBR-GA model can improve estimates of the mangrove TC at 10 m spatial resolution in tropical areas. The effectiveness of the proposed approach should be further evaluated for different mangrove soils of the other mangrove ecosystems in tropical and semi-tropical regions.